Chiropractic Treatment in Bramhall
Chiropractor Bramhall provides first-class chiropractic treatment and aftercare support for clients across Stockport, Cheshire and Greater Manchester. Our highly qualified team offer a personalised service and tailored treatment plans suited to your individual health needs.
Chiropractic is concerned with the diagnosis, treatment and prevention of injuries of the neuro-musculoskeletal system (nerves, muscles, ligaments, tendons and joints). It aims to restore normal function throughout the body, which relieves pain and allows you to function at your optimum ability. It is the 3rd largest primary heath-care profession, behind medicine and dentistry. Chiropractors treat the cause of your injury and not just the symptoms. We understand the body is a functional unit, therefore areas with no apparent pain could be the cause of pain elsewhere.
The nervous system (brain, spinal cord and nerves) controls every single function in your body. If this system is interfered with, your bodies functionality and ability to heal is reduced. Your spine generates movement but it also houses and protects your nervous system, but when damaged this protective blanket can diminish. Chiropractic has the ability to help the nervous system stay healthy. Learn what to expect from attending our clinic.
We have had the pleasure of working with a wide range of patients with ages ranging from 2 months old to 102 years old. We will make a full assessment of your problem before we treat you. Where necessary we will refer you for conditions outside of our expertise.  We also offer a full sports chiropractic service. We have enjoyed treating many elite sports-people, which have included premier league footballers, world title boxers, PGA golfers, tour cyclists and Olympic medal athletes. But you do not need to reach these heights of achievement to benefit from Chiropractic.
What Do Chiropractors Treat?
Working across Bramhall, Stockport and surrounding areas, our chiropractic treatment includes a full initial assessment into the symptoms, causes and factors behind your neuro-musculoskeletal pain and discomfort. All our treatment plans are designed to address the root cause of your pain and to restore your body to full and healthy function and mobility. Post-treatment care and advice then support you to maintain health and remain supple and pain-free.
Using a combination of spinal manipulation, physical therapy and soft tissue work, Chiropractor Bramhall can treat a wide range of conditions, including:
What Does Chiropractic Treatment Involve?
Chiropractic treatment involves gentle, safe and specific adjustments to your spine, which alleviates pain and improves function. We have a firm belief that the soft tissue (muscle, ligament, tendon, joint capsule and fascia) also has a key role to play in dysfunction and pain so we may also administer effective techniques aimed at these structures when appropriate, By also providing rehabilitative exercises when appropriate, we wont just calm your symptoms but correct the cause.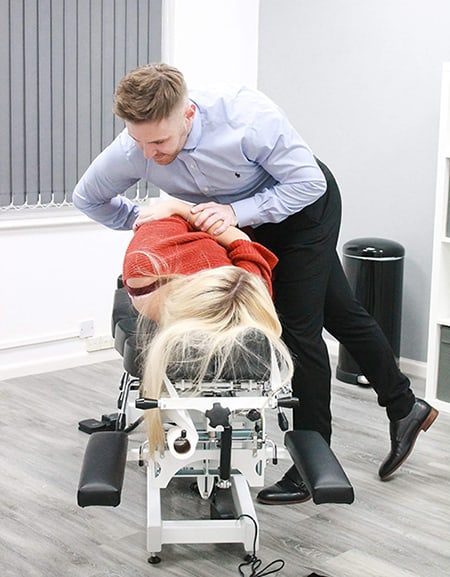 Chiropractic is completely safe. Chiropractors spend a minimum of five years intensive studying and practical training to become qualified. Chiropractors are highly skilled, you are in very safe hands.
Chiropractic is a scientific field with a growing body of research. It is utilised by thousands of people in the UK every day and milions world-wide.
Chiropractic is not an alternative medicine, in most cases Chiropractors work along side other health care professionals, such as your GP, Physio's and other specialists.
I cannot thank Jordan enough for helping to relieve the pain that I had previously thought I had to live with long-term. Having been to countless other places before, I didn't give much detail away regarding my pain in my first session but Jordan was able to identify the troubled area right away. Alongside the treatment Jordan also gives me exercises that I can do between sessions to help myself (& also catches me out if I don't do them which is a great motivator!). Above all I would like to thank him for always finding a space for emergency appointments when I have been really struggling and his diary is already full. Can't recommend enough – thank you again Jordan!
3 adjustments – pain free, 6 adjustments – still pain free and moving better. I honestly couldn't believe how fast it worked. This is after 5 years of nagging pains which I only ever controlled with regular pain killers.
Getting out of bed on a normal Wednesday morning I felt a severe stab through my foot as it planted. Terrified I called Jordan as I remembered he helped my mum with numerous other injuries. Over the phone he reassured me and organised a assessment which led onto a treatment session. Following a course of bearable treatments and a few home exercises the plantar fascitis was gone. He is a wizard!!!!