Covid-19
Following guidance from the government and the chiropractic governing body we are happy to announce we have re-opened. We will be following strict PPE and cleaning procedures. All treatment times will be extended so there will be no cross over of patients. We look forward to seeing you. 
Why Choose Chiropractor Bramhall
At Chiropractor Bramhall we have an intricate understanding of how the human body works. We firmly believe that good health is the most important thing you have, and we specialise in a wide range of neuro-musculoskeletal problems using the latest in chiropractic treatment and aftercare. We aim to make sure that you are pain-free and functioning at your best.
Whether you are suffering from pain associated with arthritis or have a sports-related injury, the Chiropractor Bramhall team are here to help you stay on track. From back, neck and joint pain to sports injuries or arthritis-related conditions, our expert practitioners will tailor your treatment to ensure you get back to living a full and active life.
Based in the heart of Bramhall we welcome patients from all the local towns and villages in Stockport, Cheshire and Greater Manchester.
What Does A Chiropractor Do?
Chiropractors diagnose, treat, manage and help to prevent neuro-musculoskeletal disorders (including the bones, joints, and muscles), as well as minimise the effects on your overall health. At Chiropractor Bramhall, we work to treat the cause of your pain or injury, not just the symptoms, and take your entire physical and emotional well-being into account.
Chiropractic
Chiropractic is the diagnosis, treatment and prevention of injuries of the neuro-musculoskeletal system (nerves, muscles, ligaments, tendons and joints).
Sports Injury Treatment
Here at Chiropractor Bramhall we love sport and thrive on helping people recover from injuries and aid in improving performance.
Our practitioners are registered and insured with both the British Chiropractic Association and  the General Chiropractic Council, so you can rest easy knowing you are always in safe hands at our clinic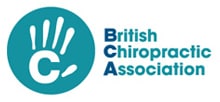 We use a range of techniques including hands-on manipulation of the spine to reduce pain, improve function and help your body to heal itself. As well as manual treatment, we also offer a package of aftercare which includes advice on self-help, therapeutic exercises and lifestyle changes to continue to help your body's natural healing process. To find out how Chiropractor Bramhall can help you, get in touch with us.
What Can Chiropractic Help?
Due to awkward positions I get into at work and certain gym exercises, my shoulders started hurting. Dr Gregory sorted it within 6 sessions. He then sent me away with exercises to strengthen them. I have decided to treat my body like I advise my patients to treat their teeth by signing up to maintenance visits once every couple of months. I feel so much better, even in places I didn't think had issues.
Having suffered with lower back, hip and leg pain for a a number of years, I visited Dr Gregory. I was a bit scared at first, but he made me feel completely at ease and now my pain is virtually non-existent. Dr Gregory's treatment, knowledge and professionalism is outstanding.
I have recommended Dr Gregory to many people and will continue to do so.
After suffering with low back and neck pain for years, my doctor advised me to see a Chiropractor. After looking at several websites it was Jordan that struck me as he seemed highly qualified and friendly. Since starting last year he has made a massive improvement not only on my pains but my flexibility and general well being. Don't wait for your GP to send you like me, just go and get sorted ASAP!!!