Here at Chiropractor Bramhall, we have an intricate understanding of how the human body works. This allows us to see where movement patterns have broken down and caused pain. Patients often come in initially for pain relief, but Chiropractic offers so much more.
With the understanding that the body has the ability to self-heal, chiropractors administer treatment to assist in the body's natural healing process.
We are registered and insured with British Chiropractic Association and the General Chiropractic Council.
At Chiropractor Bramhall, we believe in long-term relationships, and we also believe that getting to know our patients enables us to help them fully. Why not spend some time getting to know our team?
Jordan Gregory DC MChiro BSc
Jordan was inspired to become a Chiropractor because the concept of improving health without the use of medications and surgery really resonated. After failed surgery on a sports injury and a long-term low back problem, it was chiropractic and rehabilitation that got him back on his feet.
Originally from Macclesfield, Cheshire, Jordan graduated from the Anglo- European College of Chiropractic in Bournemouth. A five years master's degree in Chiropractic followed the completion of a three year Sports Injury Bachelors Honours Degree in London. During this time his research into sports injuries was published in a peer-reviewed journal.
Jordan is registered as a health-care provider for most insurance companies including BUPA, AXA PPP, Cigna, Prudential, Aviva and Simply Health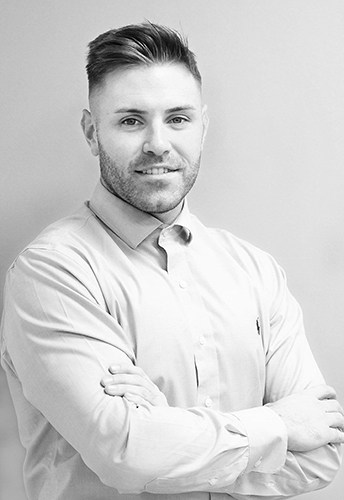 Nathan Chilton DC MChiro BSc
Nathan's purpose is to help you on your road to recovery. Providing an environment that is calm and welcoming to help set the tone for your healing process. His aim is to Inspire, Educate and Empower you to live a healthy and happy life. Dedicated to helping facilitate
your body's natural ability to heal, through chiropractic care and lifestyle advice.
Dr Nathan has been receiving chiropractic care since the age of 17 and continues to do so on a regular basis. He knows the importance of having a healthy and fully functioning nervous system and the effects of certain lifestyle choices that can help move you towards better health. Helping you adapt to the current demands of everyday life.
Nathan is a graduate of the Anglo-European College of Chiropractic in Bournemouth, having studied a five year MChiro degree qualification in Chiropractic following the completion of a three year Sport and Exercise Science Honours Degree.
Since graduating, Nathan has worked in three busy clinics gaining valuable experience helping with conditions ranging from cervicogenic headaches, neck pain, lower back pain, shoulder
and hip pain to name a few. Patients Included all age groups from babies right through to late adulthood. Nathan's background in playing national league basketball and his Sport and Exercise Science degree gives him excellent knowledge and experience in treating minor sports injuries. Not only through chiropractic care, but also through advice on postural correction and rehabilitation exercises.
Nathan is accredited by the General Chiropractic Council (GCC) and the United Chiropractic Association (UCA).
At Chiropractor Bramhall we tap into the body's natural healing powers to treat a wide range of aches and pains.
After meeting Dr Gregory at a free consultation there was no pressure to go any further  and I was provided a clear and understandable explanation. Needless to say I wanted the pain gone in my low back. No.1 Chiropractor
I was extremely worried I would have to take my clothes off when I went in for treatment. Not only was I constantly comfortable but no clothes were needed to be taken off. It was a super relaxed experience all the way through. Highly recommended.
I wasn't in much pain when I went in but knew something wasn't quite right. Jordan soon spotted a few problems. I feel better than ever and my regular headaches have decreased.